What Is Digital Marketing And Top Trends To Watch Out For In 2022?
April 12, 2022
0 Comments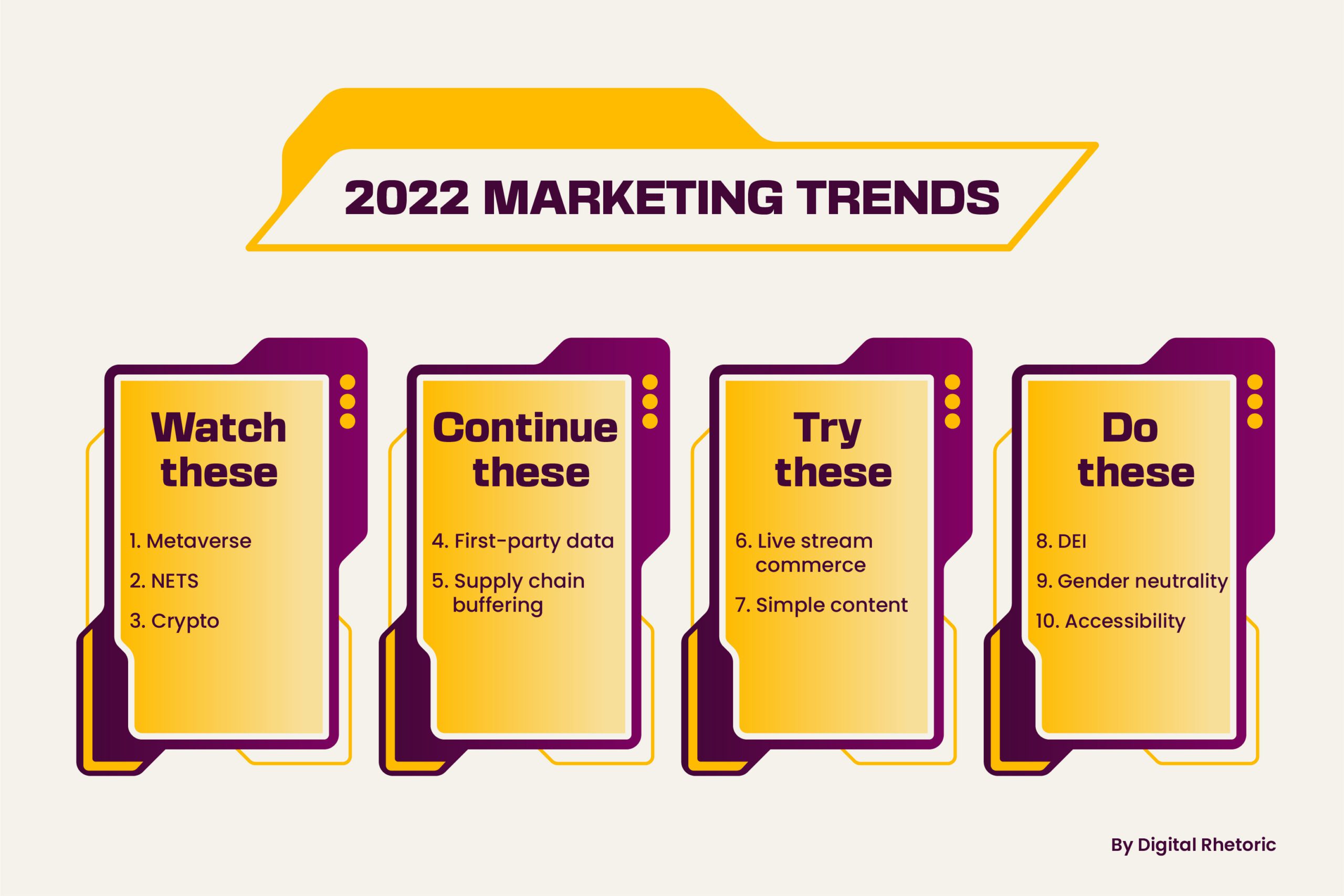 Online marketing, more popularly known as digital marketing refers to all marketing activities that occur on the internet. Businesses have the advantage of using digital channels such as search engines, social media, email and other websites to connect with current and prospective customers.
In a nutshell, the promotion of brands to connect the brand with its target audience using communication through text and multimedia messages. And with each approaching year, there are wheels within wheels in digital marketing. Meaning it keeps getting upgraded and complicated.
As we look ahead to what's to come in the current year, we have tried to compile the most critical and decisive strategies that will ensure a well drawn-out reach, improved awareness and a magnified revenue.
The top trends in digital marketing for 2022 are abuzz with these:
Metaverse
Not exclusive to Facebook specifically, Metaverse offers a virtual world of augmented reality, virtual reality, 3D holographic and video. A level above gaming with a relentless focus on settings makes it impossible for one to leave. One can shop, play, work and socialise and create multiple parallel experiences. Brands have to start taking Metaverse into account where their 2022 marketing strategies are concerned. Potentially, it offers an exclusive and a brand new set of performance metrics.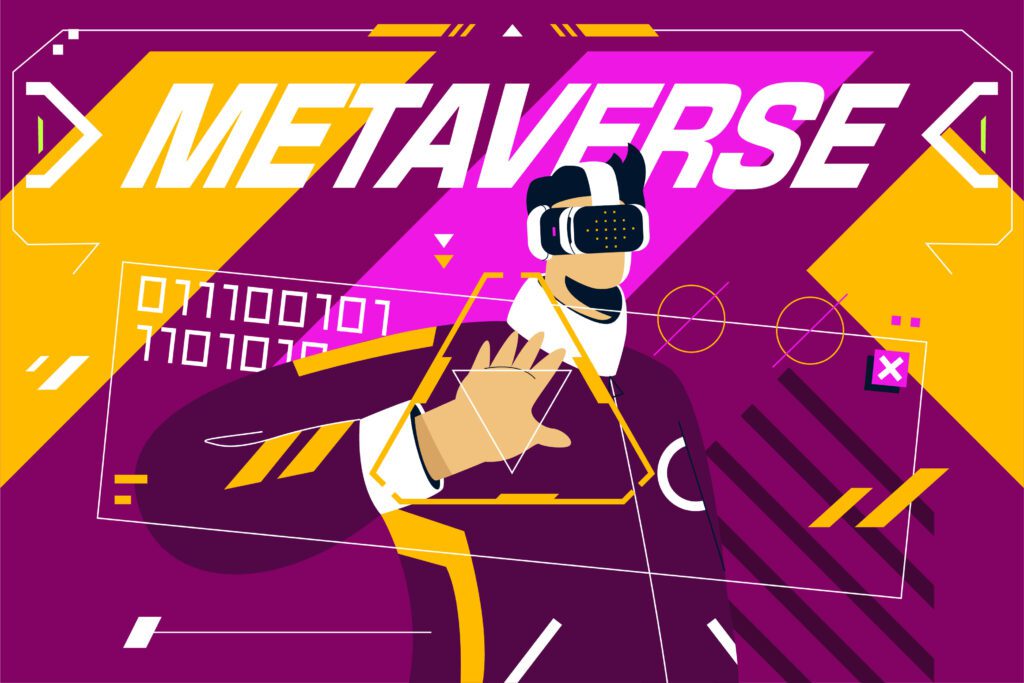 Marketers will be able to monitor how long virtual objects are controlled, how much space they take up in a user's peripheral vision, and even where users are looking when seeing an ad. These insights have the possibility to comprehensively remap what you perceive about your audience, implementing serviceable guidance and breakthroughs.
Many brands will dabble in the Metaverse before the consumers get on the bandwagon in an utter and complete sense. This only goes to prove the "the early bird catches the worm" leverage.
NFTs (Non-Fungible Tokens)
The question on everyone's mind waiting to be answered is "What are NFTs?" – Non-fungible tokens. Let's start from the basics of it. Apart from deciphering where the brands will fit in the metaverse and how businesses also have to research and examine "Blockchain Technology" first. The consequent progression of the web is Web 3.0 which is distributed furthermore.
One of the giant trends of 2022 is NFTs. Non-fungible means it cannot be traded for anything of equal value – only because it doesn't have an equal much like in the barter system. But because of the element of credibility, it holds the due position and will accelerate in the coming days.
The digital version of this amounts to individually created digital assets such as animation, graphic design, GIFs, audio/video files, memes etc. – that exist on blockchain technology.
This is a good time for all the brands to investigate how to strike the perfect balance between all the new emergent trends.
Adidas Originals have collaborated with the giants of NFTs like money, PUNKS comic, and Bored Ape Yacht Club to join "Into the Metaverse". And this collaborative NFT project is already sold out alongside the "With the community, for the community" efforts playing out well. And this is just the beginning.
Cryptocurrency
Better known as Crypto, cryptocurrency is a digital currency intended to perform as a transactional channel through the internet. Unsusceptible to any form of government administration or banking systems to endorse or sustain it. These are encrypted strands of data that stand for units of currency; coordinated and regulated by the blockchain system. This provides a guaranteed record of trade e.g. sale and transfer.
As with NFTs, cryptocurrency in 2022 will keep upgrading and the discerning marketers will keep their eyes fixed on this trend toward decentralised finance. The market analysis evaluation is that this trend will take over the global crypto market and will be more than triple by 2030, estimated to hit 5 billion in valuation.
In any case, businesses cannot neglect the upward spiral of cryptocurrency for long. Although it is still used by only a niche audience, one has to acknowledge the fact that brands will have to start accepting cryptocurrency to engage with new customers. But as there are different laws and regulations in different countries regarding this mode of payment, demographics will have to be kept in mind.
Cryptocurrencies are activating monumental changes in regard to payments and the giants like PayPal, Visa and Mastercard are following suit. This has a significant impact on how products and services employ their customer attention and retention; marketers will be keen to adjust and realign with the probable expansion in the demographic reach.
Gender Neutrality
Did you know that Hasbro, the toy-making company that made the famous "Mr.Potato-Head" back in the day, has renamed the toy to "Potato-Head"? That is how numerous brands, big and small are applying this gender-neutral technique. This trend is here to stay and will be an ongoing process as we see a whole bunch of clothing brands that have launched gender-neutral clothes to increase inclusivity.
Obviously, this trend will be gaining momentum this year as the dynamics in the marketing world are changing rapidly. The conventional way of living will be excluded and the buying basis which depends on the sex of an individual will be soon passe.
As the world diversifies more and more every single day, it is imperative that the brands sit up and take notice and act soon enough. The brands have to honestly echo and categorise different traditions in their marketing strategies preventing any sort of alienation from their customers.
DEI and Sustainability
DEI stands for Diversity, Equity and Inclusion. Marketers have to integrate these into the core brand values for their customers. Of late, brand values have as much importance with customers as price and quality does. And in 2022, this trend will be emphasised as the daily consumer has gotten more conscientious about corporate social duties, partnerships with NGOs and social benefit systems.
Brand messaging is important and requires transparency about its core brand values such as DEI and sustainability. In order to emerge impactfully and be legitimate, these values have to pervade throughout the different levels of a company. Collaborating with a compatible nonprofit can increase brand awareness and customer base. Not to mention the positive impact.
Making a significant contribution to humanitarian efforts and improving your brand and reach is a win-win situation and has already been adopted by many organisations. "What a business conceives has become as essential as what a business achieves."
Research shows consumers are willing to establish with their money and swap with brands that do mirror their values. If your company or product can speak to any of these topics, 2022 is the time to proudly own it.
Accessibility
Albeit unintentionally, brands over many many years have left out people with disabilities in their marketing plans. This in turn, has been a huge loss as together they make up to nearly two billion people who can spend money. Not to forget their friends and family who can be potential customers as well.
Comprehensively, accessible design means inclusion; making websites and digital communication functional for everyone. A marketeer is obligated to aid brands practice serving their consumers emphatically and righteously. To design with the knowledge of meeting everyone's needs, whatever the need may be. This should be the core component of the marketing plan.
Lego launched Braille bricks for children with vision impairments. Likewise the Xbox Adaptive Controller was made for specific disabilities by Microsoft/'We All Win'. In keeping with this trend, JCPenney released clothing for kids with disabilities. This trend will see a phenomenal surge in 2022 and every digital marketing agency worth its salt has to start designing campaigns around it.
Zero and First-Party Data
First-party data literally means collecting information from the consumer firsthand. Also known as 1P, it refers to the data gathered by the companies straight from the customers and retained. It is a chunk of the montage of info-marketers thrive on because they have it at their disposal to use as and when needed. This includes demographics, buyer's journey, buyers persona etc.
Zero-party data refers to the website activities, app analytics, social media profiles, email engagement etc. Gathered through surveys, customer feedback and free resources, zero-party information is the principle requirement for marketeers. Data is the crux of marketing expertise, for mapping inventive, traditional and digital marketing strategies.
Besides this, any digital marketing agency has to augment the fact that their brands have a plan with utmost clarity; a plan on point with ad placement and an assessment on how to move away from third-party cookies.
Supply chain buffering
Although this term sounds ostentatious, it really is very simple. It just means that one has to be in the know of how well-stocked the inventory is and foresee the problems that might arise. Because an irate customer can quickly move to a competitor.
While the pandemic is almost over, it has affected the supply chain and has definitely become an impediment to the point that it has a negative impact on the customer. It is well advised to make sure to have a 30 day stock depending on the product and its shelf-life.
Many a time, marketers focus on the campaigns without keeping an eye on the inventory. It is recommended that one regulates this system of coordinating the marketing goals with the scope of supply.
Live stream commerce
This is where brands, big and small market and sell their products/services through live streaming on digital portals. This has great potential for catapulting one's sales as the audience today generally has little patience and engagement with them has to be extremely strategic.
Live stream commerce has raised influencer marketing to the next level. Whether it is going shopping online with an influencer or having an interactive course with a marketer, everything is at the tip of one's fingers making it a highly valuable experience.
In 2022, this trend is being adopted in every marketing strategy all over the world and the sales are touted to reach roughly 25 billion dollars by 2023 versus what it was in 2021- around 11 billion dollars. A distinct rise is on the cards and this market research is supported by some of the world's leading agencies that specialise in retail and technology foresight.
Simple content
Content marketing is the keystone of digital marketing. The virtual space is full of content. Now, the reader has so much to choose from as the internet is flushed with content.
So how does one get noticed by the SERPs over the rest? How does one obtain visibility across platforms? Slowly but surely everything has become algorithm-driven and Google is ensuring that it gives its customers the best user experience with easy-to- read content. First-rate, straightforward content is what is the best for your SEO game.
Understandable, concise content that all and sundry can read and enjoy is the mantra for 2022. Implementing relevant content on websites and across all social platforms while delivering content that is genuine and informative should be the focus.
Conclusion
To cap it, these trends should be in every marketer's strategy if not already to flourish in 2022, onwards and upwards. The sooner one hops onto this trend-bus the better, as the world of business is ever changing.
It also goes to prove that one must always be on the lookout for new trends to stay one step ahead of competitors. And learn the creative way of tweaking every trend to suit their brand needs. All one's strategies should always keep the subsequent, imminent new-age marketing trends in coming years, also in mind.