What are the five main Digital Marketing channels?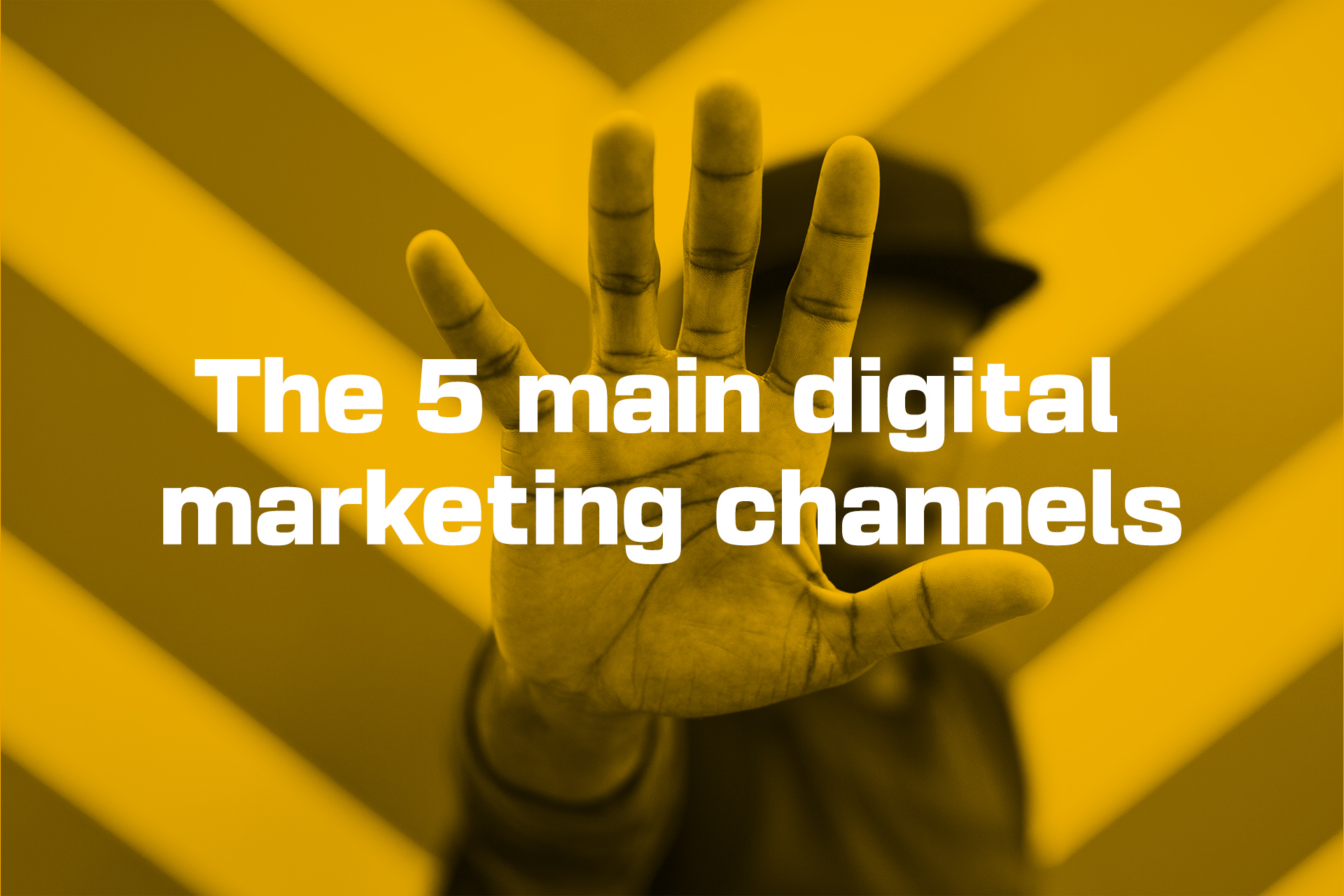 Digital marketing is a frequently used term in daily life, although how many people can really claim to know the exact nuances that make up the term? A layperson would be dumbfounded by the amount of information there is that one can use to their advantage in digital marketing, in terms of services available.
The digital marketing landscape has a whole lot on offer and it would be wise for anyone and everyone to jump on this bandwagon as it is the most cost-effective way to utilise the multiple platforms on the internet to reach their target audience.
The days of even using digital media as a sidekick in the marketing plan are long gone, this is here to stay and is the mainstream marketing plan for 
any brand's strategy for success. In the age of smartphones and the internet, it is imperative that brands stay in the face of the consumer and ahead of their competitors, and in order to do so, one needs to have a smart strategy in place and follow the T.
Looking at the top five actionable strategies for all brands
SEM & PPC: The most important and effective digital marketing channel to increase the conversion rate is Search Engine Marketing. When people search for something online, they use particular search terms; thus these become the specific keywords that need to be targeted to rank higher in the search engine. When a brand wants to gain market share by driving traffic to its website, it can do that via advertising on the search engines such as Google, Bing and Yahoo. SEM optimization refers to the usage of paid and unpaid advertising to create brand awareness and subsequent conversions. PPC is synonymous with SEM, in more ways than one although it is a speedier channel that gets faster results in terms of driving the target audience to your website and landing pages. Marketers use paid search listings to get a larger amount of traffic to their web pages, which is almost like buying your traffic as each time the customer clicks is when the vendor has to pay. This way of advertising works best with brands that are flushed with a budget and can afford to pay a higher cost to gain traffic and get recognition online in a faster turnaround time.


SEO – When there is traffic that has reached your website organically, it is by efforts of Search Engine Marketing or SEO. When a user searches for a particular product or service, and if it falls in your relevant category, there is an algorithm that recognises it and makes efforts to bring the user to its required place – your brand, in this example. Organic search is not to be paid for as PPC, but to ensure that you rank high on the SERPs (Search Engine Marketing Pages), there is a marketing tactic that is called SEO. The SEO experts keep a watchful eye on the go-ons on the search engines daily and keep abreast of the best practices that are placed by Google and other search engines and adhere to them; thus keeping the ranking on top. Continually , with the right SEO efforts, visibility, reach and authority is increased, resulting in more awareness, traffic, visitors, leads, conversions and digital branding. Having said that, this is not a one time effort as Google is known to change its algorithm at the core which can drop your ranking considerably, in a matter of minutes. To know that this effort has to be sustained consistently is to make it to the top of the SERPs.


SMM – Prominently, the most favored, chicest and youngest channel in advertising to use in digital marketing is Social Media Marketing. Creating and promoting a brand image in a trendy manner is possible with a successful social media marketing strategy. Most businesses nowadays want to use social media as it is a more straightforward concept to wrap your head around. It is diverse and can promote a burger, a cat, a purse, a plumbing service and Nike all at the same pace, time and with pretty much a similar strategy albeit with the relevant twist. Most of us know of social media platforms, and we know what they do; like Facebook for a layperson is to connect with school friends and relatives but for a business, it means so much more with the different options of a business page and a marketplace. Similarly, there are Instagram, YouTube, Quora, LinkedIn, Pinterest, Twitter, Snapchat and many more social media portals that can be leveraged. Just ensure that the content is of high quality and is distributed wisely.


Email Marketing – Since the inception of the internet and its goings on, email marketing has been around as it ties in very well as the traditional way of marketing that was done offline too before this whole new world of marketing. Conversely, it is also a contemporary way of marketing to date. Marketers use email marketing as a tool for different stages in the marketing process with a lead, when the lead is converted and for remarketing and retaining the customer. This has proved to be a fruitful method for years and hence all marketers adopt it in their strategy every once in a while to up the game. Deeper relationships are established and a wider audience can be reached in this manner.


Content marketing – The most important key to success in digital marketing is content marketing, any marketer worth his or her salt can tell you that. The system of creating great content, visualizing the effect, engaging the audience and managing the publishing of downloadable written and visual content is content marketing. This strategic plan targets the relevant audience by understanding what they need and feeding them exactly that; thus converting them in the manner of luring them with design, published material, promotions and distributions of the brand message through different channels and mediums. Content marketing involves the sharing of free content that is of value and relevance to the customer. These could be FAQs, whitepapers, case studies, ebooks, newsletters, illustrations, book summaries, vlogs, blogs, vidoes, surveys, quizzes, polls, webinars, reviews, infographics, mind maps, lists, memes, giveaways, podcasts, press releases, photos, user-generated content, templates, slideshares etc.
To conclude…
There are a plethora of strategies to choose from in digital marketing, but the right fit is dependable on your brand needs, budget, target audience, short-term and long-term goals of your brand and team, and the resources available to you at the time. Rest is gold if you manage to get everything at the right place, at the right time. 
The internet is becoming the town square for the global village of tomorrow.
-Bill Gates.